Bent-core liquid crystals, are anisotropic molecules in which the central rigid core of the molecule has a significant bend angle. There are 8 known B phases to date, although on-going research in this area is sure to reveal more. We have looked at switching in the B1 and B2 phases, revealing structural changes as a function of applied electric fields.This work may eventually lead to new, low energy materials for display devices or other optical modulators.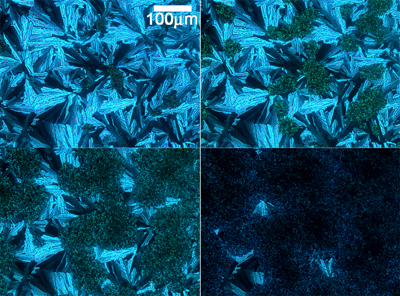 "Low Electric-Field Induced Switching in the B1 Bent-Core Liquid Crystal Phase"
J. Kirchhoff, K.M. Fergusson, M. Hird and L.S. Hirst, APPL. PHYS. LETT. 90, 161905 (2007)
"Modification of the electro-optical properties of the B1 liquid crystal phase using a rod-like liquid crystal dopant"
J. Kirchhoff and L.S. Hirst, PHYS. REV. E, 82, 031701 (2010). Link
A complete listing of the group's publications can be found here.